More >
About Us
GENE'S TROUT FISHING RESORT
270 RIVER ACRES DRIVE
SALESVILLE, ARKANSAS 72653
Resort Information: 1-870-499-5381
Reservations Only: 1-800-526-3625
Fax Line: 1-870-499-5381
Email: genes@mtnhome.com
Website: www.genestroutfishingresort.com
Reservations can be made between
7:00 A.M. and 5:00 P.M. - Central Time - Please call during these hours.
After 5:00 P.M., For Medical/Fire Emergency Call 911 then call our office at 800-526-3625. Thank-you for your understanding.
A three night minimum stay is required for all riverfront cabins.
All cabins require a three night minimum stay on all holidays.
The 3 nights can be a Thursday-Friday-Saturday OR a Friday-Saturday-Sunday.
As we get closer to your reservation day (within just a few days), please call the office and see what cabins are available for a one or two night stay. Sometimes we can "fit you in" therefor bypassing the 3 night minimum stay policy.
OFFICE & RETAIL STORE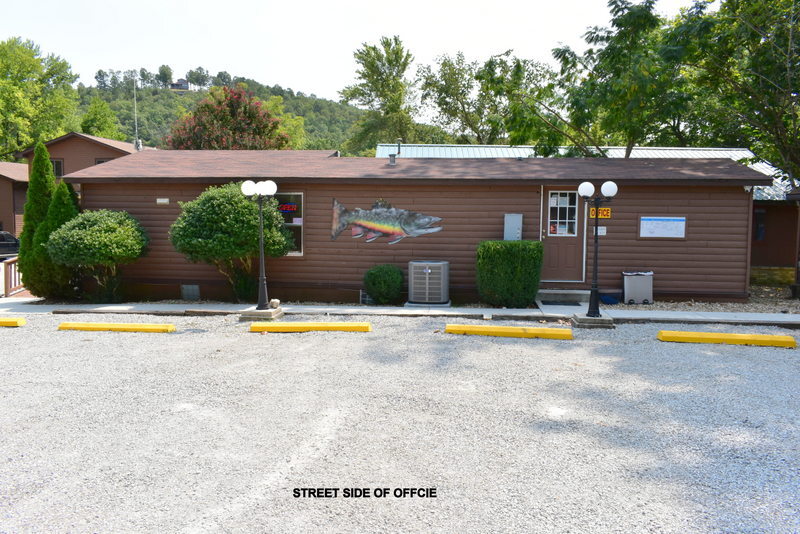 Gene's Resort sells resident and non-resident fishing and hunting licenses, trout permits, ice, soda, water, snacks and candy, bait/tackle, charcoal and lighter fluid, lighters, "T" shirts, sweatshirt hoodies, ball caps, Aussie hats, sunglasses, and post cards. ATM, FAX, and Copy Machine in office.
FREE FIBEROPTIC WIRELESS INTERNET ACCESS

Gene's Resort is proud to offer you FREE "FIBEROPTIC" Wireless Internet Access. Bring your own wireless computer or laptop and have free wireless access to the internet directly from the quite comfort of your cabin.
WHAT WE DO HAVE

Two Story Riverfront Grand Suites #19-20 (5 Bedrooms) Pool Table-Gas Fire Place
One, Two, Three, Four, and Five Bedroom Cabin & Lodge Accommodations
Two Story Lodge #10 (4 Bedrooms) - Pool Table - Gas Fire Place
Three Story Riverfront Lodge #7 (5 Bedrooms) - Pool Table
Surround Sound
3 Marine Docks with Fish Cleaning Stations
Only Non-Smoking Cabins
Very Clean - Pet Friendly Accommodations
Satellite Television In Each Cabin
Guided Bait & Fly Trout Fishing Trips
Outside Can Soda Machine
Jon Boat & Motor Rentals
Free Fiberoptic Wireless Internet
Horseshoe and fire pits at three locations.
Office-Retail Store

WHAT WE DON'T HAVE

Gene's Trout Fishing Resort would like to be upfront and honest with all our patrons so there are no surprises when you arrive. We want you to be properly informed and comfortable with your stay. Gene's Resort does not have the following:
| | |
| --- | --- |
| Restaurant | (all restaurants from 1-12 miles) |
| Swimming Pool | (located in Mountain Home) |
| River-Land Shuttle | (sorry - no referrals) |
| Golfing-Tennis | (located in Mountain Home) |
| Daily House Keeping | (all cabins supplied with linens) |
| Grocery-Liquor Store | (just 1 mile away) |
| Clothes Washer-Dryer | (located in Mountain Home) |
| $1,000,000.00 | (cash-personal checks preferred) |
| | (Scott just had to throw that in! :) |