Lodge #7 - Lodge #10
VIEW FROM LODGE 7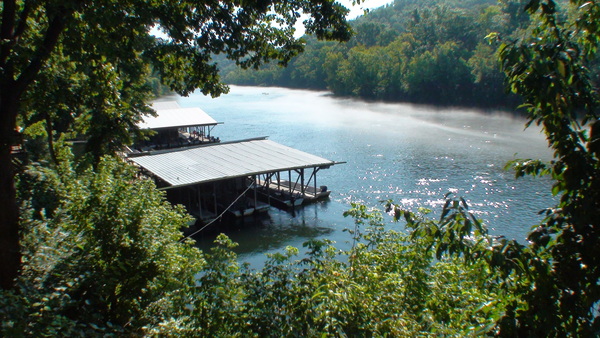 LODGE #7
The Riverfront Lodge #7 is a three floor facility and directly overlooks the beautiful North Fork River. Any closer to the river and you'll need a life jacket :) .
The first floor (basement) has a regulation slate pool table, satellite television, one bedroom with two twin beds and a bathroom and shower. Stairs will lead up to a second floor (main floor).
The second (main) floor has a full split plan cathedral type ceiling, two bedrooms (each with two full size beds and one twin bed), fully equipped kitchen with dining area, bathroom with tub shower, entertainment center, and extra large windows. Walk outside onto a large wrap around deck, with barbecue grill, overlooking the North Fork River.

The third floor has two more bedrooms each having their own bathroom and shower. One bedroom has four twin beds and the other bedroom has three twin beds. There is also a sleeping loft with a fold down futon bed.

Lodge #7 is operated by two central heating/cooling units. The kitchen is fully equipped with all the cooking and eating utensils, automatic drip coffee maker, microwave, refrigerator/freezer, and stove/oven. This lodge is equipped with all the bed/bath linens.

This Riverfront Lodge #7 sleeps 16-20 people. There are a total of 15 separate beds (11 twins, 4 full and 1 Futon). The cost per night is $395.00 for up to 10 people and $10.00 for each additional person. We do not charge for children under four years of age. If you have a larger family or group, children may bring their sleeping bags. The basement would be an ideal place for them to play, sleep, and have fun.
LODGE #10

Lodge #10 is a two story facility (just a stone toss away from the river). This four bedroom and four bathroom lodge has a gas fire place, regulation size slate pool table, and a large color satellite television with an entertainment center (VCR-DVD-CD). The kitchen is fully equipped with all the cooking and eating utensils needed to keep dad cooking all day while mom catches all the trout (hum..). This kitchen also has a 30 cup coffee maker and plenty of cabinet space for your groceries. Lodge #10 is strictly a No Pet Facility. Lodge #10 will sleep 16-20 people.